Mobile phones are an amazing success story in the developing world, bringing transformative opportunities to many underserved communities. But they do not reach out to remote rural villages – where there is demand and purchasing power, albeit limited – and a scaleable micro mobile teclo solution could transform communications and development for the poorest of the poor.
So what might be the business and technology models that would allow entrepreneurs to roll out mobile phone systems to these underserved communities? And could development organizations play a role?
Which technology would be best: GSM? WiFi? WiMax? What's the business case: Handset sales? Subscriptions? Airtime Only? Could voice services be augmented with data? Even broadband? How might an entrepreneur serve 400 customers at $10 per month revenue or $48,000 per annum? And should aid organizations seed these businesses?
Join David Ferguson, for a lively discussion of possible micro mobile telco models and expect to hit the whiteboards with your ideas.

Read More
In April of 2008, I started the Technology Salon as a forum where technology and development professionals could share there opinions on emerging trends in information and communication technologies and international development in an intimate and informal discussion around:
technology's impact on donor-sponsored technical assistance delivery, and
private enterprise driven economic development, facilitated by technology.
Now, almost a year later, the Technology Salon is developing into a real community of practice – a network of development and technology professionals who share a common passion for ICT4D, and through regular interaction and communication, are improving their knowledge and implementation expertise in empowering development with technology.
From its inception and reinforced through feedback from its participants, I've found there are three attributes keys to the Technology Salon success and growth: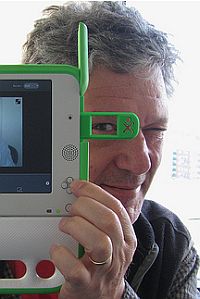 Hot Topic: The Rise of 4P Computing
Conversation, not presentation
The Technology Salon is primarily a forum for discussion, so presentations are discouraged and Power Point is generally banned. Speakers have only 10-15 minutes at the beginning to present their activity, before participants are free to ask questions, share their own experiences, and drive the conversation in a direction that interests them. This both brings forth the group's knowledge and keeps participants engaged for the full meeting.
Intimacy of participants:
The Technology Salon attendance is capped at 15 people to make sure each participant has the opportunity to speak and share their experience. This cap also encourages pre-registration and subsequent attendance. Last but not least, it allows for quality pre-and post-event networking by participants.
Confidentiality of opinions:
The Technology Salon employs the Chatham House Rule – what is said in its discussions can only be attributed to the Salon itself, not to any specific participant. At the same time, the Salon is not recorded nor the discussion transmitted outside its meeting place. These precautions allow participants to speak their opinions freely, thoughts that would not be shared if participants worried about attribution or out-of-context quoting.
In 2009, I look to improve on the Technology Salon's success while maintaining its three key attributes – conversation, intimacy, privacy. Its goal is to evolve beyond its current exclusive nature into a standard of discourse between technology and development professionals.

Read More