Epidemics and a shortage of healthcare workers continue to present grave challenges for governments and health providers in the developing world. Yet in these same places, the explosive growth of mobile communications over the past decade offers a new hope for the promotion of quality healthcare – billions now have access to reliable technology that can also support healthcare delivery.
How can this access to mobile technology, radically improve healthcare services – even in some of the most remote and resource-poor environments?
Please join Inveneo's Eric Blantz and Vital Wave Consulting's Dr. Karen Coppock in a discussion around mHealth – how technology can empower better and more efficient healthcare services throughout the developing world, with an emphasis on mobile and cellular technologies.
Opportunities for mHealth in Development
March Technology Salon in San Francisco
March 3rd, 8:30-10am
@ Inveneo
972 Mission Street, 5th Floor, San Francisco
Of special focus is the recent United Nations Foundation and Vodafone Foundation Technology Partnership report, mHealth for Development, authored by Vital Wave Consulting.

Read More
With the explosion of mobile handsets and the faltering of the "$100 laptop" idea, the international development community is focusing on the mobile phone as an empowerment tool, while questioning investments in computers. Is this wise? Is there a data continuum that includes both? Or should development dollars really shift to one platform at a loss to the other?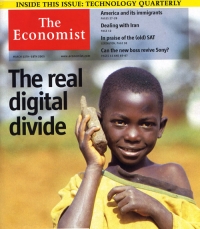 The primary development platform?
Please join us for a spirited debate where Troy Etulain of USAID will push us to envision a future where development objectives are achieved on mobile phones, while Wayan Vota will back computers, desktops even, as the true tool of choice to accelerate development with technology.
Katherine Townsend of State will moderate the discussion with an eye to finding realistic recommendations for the development community.
Our gracious host is the UN Foundation and I'll have coffee and donuts for a good morning sugar rush to wake everyone up.
Mobile Phones vs. Computers: a False ICT4D Choice?
February Technology Salon
Thursday, February 12th, 8:30-10am
UN Foundation Conference Room
1800 Mass Avenue, NW, Suite 400
Washington, D.C. 20036 (map)
Do note that seating is limited and the UN Foundation is in a secure building. So the first dozen (12) to RSVP will be confirmed attendance and then there will be a waitlist.

Read More